Saturday, November 3, 2018, 9:00-10:30am
---
This interactive presentation will demonstrate the successes and lessons learned from the almost 20 year old Interdisciplinary Arts Residency Program (IARP) at the University of Wisconsin-Madison. Featuring semester-long residency examples, such as those from cartoonist Lynda Barry and conceptual artist Faisal Abdu'Allah, we will examine the ways that IARP residencies promote the diversity goals of the university while supporting new and emerging networks of integrative arts research. Learn how to initiate a sustainable interdisciplinary arts residency program at your university or how to make program improvements to existing university based residency programs.
---
Speakers
Angela Richardson
is an artist and educator. In addition to maintaining her own interdisciplinary studio practice, she works for the Wisconsin School of Business to help students and faculty understand the relationship of creative thinking to innovation in business. Angela received an MFA in Studio Art from UW-Madison in 2015 and is now a staff member of UW's Bolz Center for Arts Administration. Previously, as arts program manager for the UW Arts Institute, Angela provided support and coordination for the residencies of Helen Paris & Leslie Hill (Fall '10) and Tad Gloeckler (Spring '11.) She was a student in IARP courses taught by Lynda Barry (Spring '12), Sally Gross (Fall '12), and Alec Soth & Brad Zellar (Fall '14.) This year she is lead faculty hosting Stuart Flack's Fall 2018 residency at UW and will assist in teaching his course, Performing Information: Exploring Data through Live Performance.
Marina Kelly
is an artist, educator and arts administrator based in Madison, Wisconsin. Marina completed her Master of Fine Arts degree from the Art Department at the University of Wisconsin-Madison in 2012. After managing UW-Madison's 
Creative Arts Community
 (aka, The Studio) for six years, she was named Student Programs Coordinator for Division of the Arts. There, she directs the university's 
Interdisciplinary Arts Residency Program
 as well as other campus wide interdisciplinary arts programs. Marina is also a multidisciplinary artist who designs situations that bring people together; creating intimate occasions, site responsive performances, live art tableaux and sculptural installations.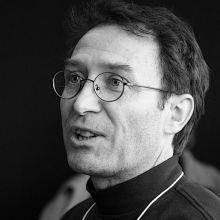 Tad Gloeckler
is an Associate Professor in the Lamar Dodd School of Art at the University of Georgia in Athens, GA. He has taught design for more than 20 years (15 years at UGA), and was in architectural practice for ten years prior to teaching. In Spring 2011, he spent a semester at UW-Madison as the Interdisciplinary Arts Residency Program's 26th artist-in-residence and taught a course titled Drag Space, which looked at the way public spaces gain identity through the activities they contain as much as through form. Tad is an award winning artist/architect/designer whose work incorporates elements of sculpture, industrial design, performance, furniture design, ritual, graphic design, landscape, non-static forms and jewelry/metals into complex assemblages, using a range of techniques from hand carving to industrial computerized milling.
---
Resources