Saturday, November 3, 2018, 10:45am-12:15pm
---
This session will discuss the topic of Site from three distinct perspectives related to 3 individual craft practices; site as inspiration, site as information, and site as material. Together the three presentations will reveal and discuss site is a vital subject in the field of contemporary craft – fueling the diverse practices of many important craftspeople and artists both past and present. The individual presentations will include coordinated use of multimedia strategies – featuring artist produced audio and film and live stream video, to holistically illustrate site in the contemporary field.
---
Speakers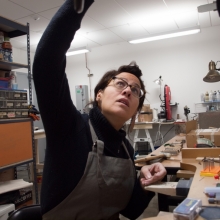 Demitra Thomloudis received her MFA from San Diego State University after receiving a BFA from the Cleveland Institute of Art. She is a recipient of a Kent State University Research Council Award, the Bedichek-Orman Professional Development Grant, was a 2015 nominee for the American Craft Council Emerging Voices Award, and was a Society of North American Goldsmiths' (SNAG) Emerging Artist featured at SOFA Chicago in 2014 with representation by Charon Kransen Arts. Her artist residencies include the Houston Center for Contemporary Craft and Smitten Forum. Thomloudis' work is exhibited internationally in exhibits such as Unclasped Discovering Contemporary Greek Jewellery at the Hellenic Museum in Melbourne, Australia in 2015, JOYA in Barcelona courtesy Alliages Organization, New Traditional Jewellery Confrontations, featured at SIERAAD Art Fair and The Museum for Modern Art in Arnhem, Netherlands, and the 2013 Beijing International Jewelry Art Biennial. Her work has been including in the books 500 Plastic and Resin Jewelry and 500 Enameled Objects published by Lark Books and The Art of Jewelry: Plastic & Resin: Techniques, Projects and Inspiration.
Motoko Furuhashi was born in 1982 in Tokyo, Japan. She received her MFA in Metals from the University of Illinois at Urbana-Champaign. Her work has been exhibited nationally including at the Museum of Contemporary Art Chicago, the Houston Center for Contemporary Craft, and the Oakland Museum of California.
Kerianne Quick received her MFA from University of Illinois Urbana Champaign in 2011, and her BA from San Diego State University in 2002. As a recent recipient of a major fellowship from the Kate Neal Kinley Foundation, Kerianne researched the connections between cultural structures and aesthetic production, specifically within Dutch contemporary jewelry. While in the Netherlands she worked as Research Assistant and Project Facilitator for Droog founder Gijs Bakker, and Chi ha paura…? Foundation's project Global Identity. Kerianne has successfully worked as an integral part of curatorial teams to produce major exhibitions at the Salone del Mobile in Milan, and the Pinakothek der Moderne in Munich. Highlights from her exhibition record include the Museo Franz Mayer in Mexico City, the Salon del Mobile in Milan, and Design Week Amsterdam. Her work is included in major collections such as the Houston Museum of Fine Arts and the Stedelijk Museum 's-Hertogenbosch. Kerianne mixes traditional and digitally driven making with ethnographic and sociological research to consider source, geography and material specificity. She is interested in craft and materiality as cultural phenomenon.
---
Resources